We would love to have you join our Club
Become a member
Our Club is in the Modesto, CA area, if you would like to find a club closer to where you live,
visit the CFMS (California Federation of Mineral Societies) website www.cfmsinc.org
or the AFMS (American Federation of Mineral Societies www.amfed.org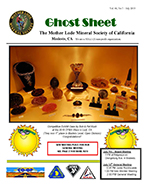 All our members get our club newsletter with news of trips, shows and club news.
Meetings are normally held on the first Sunday of each month at 2:30pm
The Junior Rockhounds meet at 1:15pm
(see home page for current times and dates)
Visitors Are Welcome!!
Come See What Our Club Is All About
If you are interested in our club we invite you to fill out and send in a membership application...
and we will send you more information!

Simply download the PDF and Mail in: Membership Application 2023
Our meetings are now held at the Tuolumne River Lodge